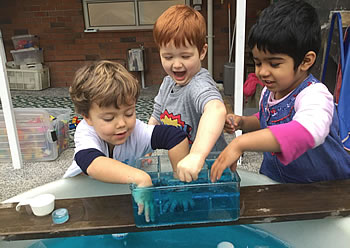 Below are links to the Education Review Office's 2019 and 2014 reports. Both find Kids' Domain Early Learning Centre very well placed in its ability to provide positive learning outcomes for children.
"Teachers skilfully enhance children's interest in and exploration of the natural world, inside and outside the centre gates, through a te ao Māori lens. They actively involve older children in discussion, debate and documentation of their own learning.
"Leaders and teachers provide specialised care for infants and toddlers. Their deep inquiry into providing an environment and resources that engage and promote learning for younger children has resulted in carefully considered uncluttered, inviting play spaces. Teachers' interactions are calm and respectful and children are relaxed and settled."
2019 Education Review Report - Kids' Domain Early Learning Centre
"Kids' Domain is a busy and exciting place for children. The centre caters well for the different needs, pace and interests of children. There is quiet, personalised care for very young children and the oldest children are identified as the leaders in the centre. All children are carefully nurtured, encouraged to be confident communicators and leaders of their own learning." (Education Review Office, 2014)
Early Childhood and School Report - Kids Domain Early Learning Centre