Promoting healthy eating and physical activity in our centre has the potential to help children establish healthy habits for life. Good health habits learned during the formative years of early childhood can have a huge impact, not only on a child's wellbeing but also on their future health.
Chefs Lizzie Fong and Manjit Kaur create tasty nutritious meals fresh every day. Their food draws from recipes from around the world and is delicious, full of goodness, and tastes great. The children totally enjoy their meals at Kids' Domain, and their parents (of course) think that this is simply the best.
Meals at our centre are made from scratch with fresh natural ingredients and flavours carefully developed using quality protein, vegetables, grains, herbs and spices. Seasonal fresh produce is emphasised and the children eat a wide variety of fruits and vegetables, supplemented by fresh herbs and vegetables from our Kiwi backyard.
Catering for the variety of needs of our diverse community is not a hassle for our amazing chefs who desire to provide the very best food experience for each child.
Our meal service is organised around three seasonal menus each of which has a four-week rotation. That's a whole lot of yum and a great deal of variety. You know how the saying goes: "Variety is the spice of life!"
Kids Domain Menus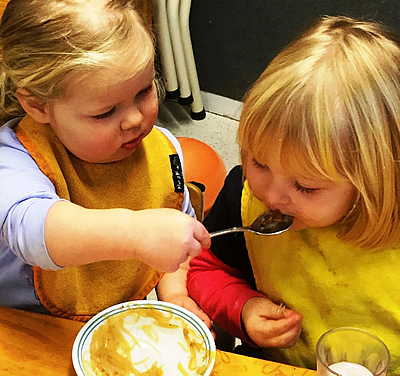 Links
Heart Foundation Website: www.heartfoundation.org.nz
Fuelled for Life Website: www.fuelled4life.org.nz
Learn by Heart Website: www.learnbyheart.org.nz